Research Funding
(2013–present)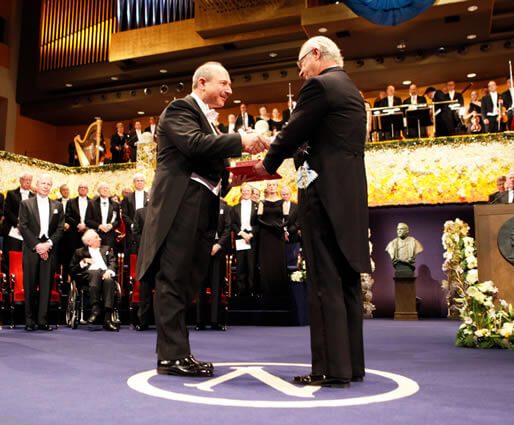 From a first-in-class kidney cancer drug to the development of new surgical and radiation approaches, a uniquely collaborative environment catalyzes transformative research.
Recognized by D CEO Magazine and Dallas Innovates for its innovation and transformational creativity as a finalist for the inaugural 2020 Healthcare Innovation Award.
Bruce Beutler, M.D.
One of only two programs in the country developing the next generation of immunotherapies with a Nobel Prize-winning immunologist.
Expertise Improving Survival
Expertise attested by survival rates that exceed national averages stage for stage.
Recognized with a Leaders in Clinical Excellence Program Award, the Kidney Cancer Program is setting new standards in cancer care.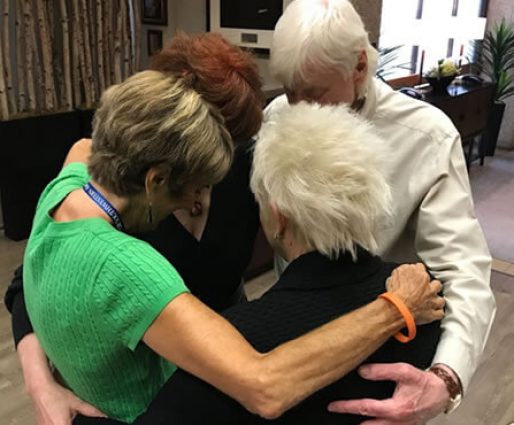 Supportive care and services helping patients navigate the cancer landscape while creating a sense of community.    
Dedicating their time and sharing their experiences, our patient and caregiver volunteers set the tone. 
CPRIT award brings prominent kidney cancer investigator to UTSW
More than $19 million dollars were awarded by CPRIT to UTSW recently, including a $4 million CPRIT Scholar Rising Star Award to recruit Tian Zhang, M.D., M.H.S., a medical oncologist and clinical researcher from the Duke Cancer Institute.
"Dr. Zhang is one of the first clinical researchers to receive a Rising Star Award," said Dr. James Brugarolas, Director of the Kidney Cancer Program, "which speaks to her strong credentials."
Dr. Zhang is the co-chair of the National Cancer Institute Renal Task Force and leads the largest investigator-initiated phase 3 clinical trial in kidney cancer, the PDIGREE trial. She earned her medical degree from the Health Sciences and Technology program at Harvard Medical School and her Masters of Health Sciences degree from Duke University School of Medicine, where she trained in Internal Medicine and Hematology-Oncology.
Specializing in genitourinary (GU) malignancies, Dr. Zhang's research interests involve developing novel therapeutics and biomarkers. She has actively cultivated a dynamic clinical research program in GU oncology with special interests around kidney and bladder cancers.
Her funded CPRIT proposal focuses on three kidney cancer projects. As the principal investigator of the PDIGREE trial, she will perform biomarker studies with the ultimate goal to optimize patient treatment selection. Her second project repurposes a PCSK9 inhibitor to enhance tumor antigen presentation and promote an immune anti-tumor response. Finally, she will leverage a device she developed to capture circulating kidney cancer cells to study tumor evolution.
"The broad repertoire of approaches and projects speaks to Dr. Zhang's ingenuity," said Dr. Brugarolas.
Fascinated by the intersection of science and medicine, Dr. Zhang credits her pursuit of oncology to an early passion for biochemistry. However, she acknowledges the sustaining rewards from special connections with her patients.
"My patients are my inspiration and the source of research questions I strive to answer with clinical trials," said Dr. Zhang. She is also passionate about mentoring the next generation of trainees and early career investigators, an area where she has also established a track record.
Dr. Zhang's husband, Andrew Wang, M.D., also recently joined UTSW as Professor and Associate Vice Chair for Research in Radiation Oncology.
Novel kidney cancer study sheds light into how cancers invade and metastasize
It's often cancer's spread, not the original tumor, that poses the disease's deadliest risk. And yet, metastasis is one of the least understood aspects of cancer biology.
In a newly published study in Nature Communications, UTSW KCP researchers leverage a unique aspect of kidney cancer, where the tumor grossly invades into the vasculature, to lift the veil on how cancer invades and metastasizes. They show that tumor invasion involves the transient activation of an abnormal cell fate program, and that invasion is not always driven by the most evolved and aggressive cells in the tumor.
Study highlights diagnostic advances in classifying oncocytic tumors
A persistent challenge in kidney cancer diagnosis is the ability to reliably determine whether a tumor is cancerous. Oncocytic kidney tumors are particularly challenging due to their overlapping benign and malignant features.
In a newly released report published in Modern Pathology, a team of UT Southwestern Kidney Cancer Program (KCP) researchers led by Dr. Payal Kapur lays out a systematic approach for understanding the molecular biology of a novel oncocytic tumor using morphologic, immunohistochemistry, and molecular findings. Researchers pinpoint the unique gene signatures for a new kidney tumor entity called LOT (low-grade oncocytic tumor), noting the common occurrence of mTOR mutations, association with a rare hereditary condition, and general overall benign behavior. The findings are the latest in a series of studies by the KCP outlining diagnostic advances in kidney tumor classification.
KCP welcomes new faculty member
We are pleased to welcome Qian (Janie) Qin, M.D., Assistant Professor of Internal Medicine, as the newest faculty member supporting the Kidney Cancer Program. Dr. Qin joins UT Southwestern and the Simmons Cancer Center GU oncology team from the Icahn School of Medicine at Mount Sinai, where she most recently completed her fellowship in Hematology and Medical Oncology. A graduate of Baylor College of Medicine in Houston, she trained in Internal Medicine at Houston Methodist Hospital.
Dr. Qin's research interests focus on novel biomarkers and therapeutics for genitourinary cancers, including kidney cancer, particularly in the context of early phase clinical trials. She is experienced in developing investigator-initiated studies with biomarker correlatives and will be deploying new molecular imaging approaches to study kidney cancer.
FDA approves first-in-class HIF-2 inhibitor developed at UTSW SPORE
The FDA approval of belzutifan on Aug. 13, 2021, marks a paradigm shift in the treatment of kidney cancer toward a highly-targeted drug with minimal side effects. It also marks the introduction of a new class of drugs known as HIF-2 inhibitors.
The drug evolved from chemical leads discovered by researchers at UT Southwestern Medical Center in the mid-1990s and developed by Peloton Therapeutics in the UTSW Biocenter. Supported by funding from a National Cancer Institute SPORE Award, the UTSW Kidney Cancer Program showed in 2016 that the drug PT2977, eventually approved as belzutifan, was able to inhibit HIF-2a in human kidney tumors.
External Advisory Board adds new members
Prominent kidney cancer experts Elizabeth Plimack, M.D., M.S., and Rana McKay, M.D., are the newest members of the Kidney Cancer Program's External Advisory Board. Established in 2014, the nine-member board comprises noted physicians and scientists from across the country who serve as resources on research initiatives for KCP leadership.
Dr. Plimack is Professor of Hematology/Oncology and Division Chief of Genitourinary Medical Oncology at Fox Chase Cancer Center in Philadelphia. Dr. McKay is Associate Professor of Medicine and Urology at the University of California-San Diego and Co-Leader of the Genitourinary Oncology Disease Team at Moores Cancer Center.
Physician-Scientist seminar among first UTSW conferences to resume post-pandemic
After more than a year, the Physician-Scientist Faculty Seminar Series has resumed at UT Southwestern Medical Center. As an institution ranked No. 1 globally by Nature Index in healthcare research, it was fitting that the conference, supporting physician-scientists working in the field of cancer, be among the first to roll out.
The event was held on July 5 at the T. Boone Pickens Biomedical Building and the featured speaker was Isaac Chan, M.D., Ph.D., Assistant Professor of Internal Medicine, who spoke about the role of NK cells in cancer. Approximately two dozen faculty attended the seminar and luncheon, which was sponsored by the Harold C. Simmons Comprehensive Cancer Center. 
The seminar series is supported by a five-member organizing council comprised of Drs. Lu Le, Deepak Nijhawan, Kenneth Westover, Hao Zhu and James Brugarolas. 
"By deploying their skills as scientists, physician-scientists are uniquely poised to rigorously address medical quandaries," says Dr. Westover. 
The purpose of the seminars is to assist faculty who are in the early stages of building research programs and clinical practices. The peer support platform allows junior faculty to present their research programs, particular projects, or funding strategies to veteran colleagues for feedback.
"It's like having two jobs," says Dr. Le.
Dr. Zhu notes the unique challenges physician-scientists face managing laboratory-based programs alongside clinical practices. "As fellow physician-scientists, we have a shared experience," says Zhu. "We understand the complexities and demands of this role. We also recognize the part we play in addressing the problems that matter to patients."
Dr. Brugarolas, Kidney Cancer Program Director, regards the green-lighting of the event as a testament to the significance of physician-scientists as engines of discovery and the importance of catalyzing collaborative systems that support team science.
"The physician-scientist is iconic of UT Southwestern Medical Center," says Brugarolas. "The Kidney Cancer Program makes a substantial investment in the recruitment and training of physician-scientists, providing networking and educational opportunities in addition to resources and funding support."
UT Southwestern investigators report first analysis of pioneering kidney cancer radiation approach in clinical trial
A pioneering approach developed at the UT Southwestern Kidney Cancer Program using stereotactic radiation to treat kidney cancer that has invaded into the largest vein of the body proves safe according to clinical trial results.
Illustration: Kidney Cancer IVC Tumor Thrombus
Locally advanced kidney cancer where the tumor invades the renal vein, making its way into the inferior vena cava (IVC) – the body's largest vein – where it can obstruct blood flow as it has free passage to the heart.
NIH investigator joins Kidney Cancer Program
The Kidney Cancer Program (KCP) welcomes its newest investigator, Dr. Chen Yao. A CPRIT (Cancer Prevention and Research Institute of Texas) awardee and joint recruit between the KCP and the Department of Immunology, Dr.  Yao joined on June 1, 2021, as an assistant professor on a tenure track. Dr. Yao earned her Ph.D. in Immunology from the University of Minnesota and subsequently completed a postdoctoral fellowship at the National Institutes of Health's National Institute of Arthritis and Musculoskeletal and Skin Disease (NIAMS), working in the Molecular Immunology and Inflammation Branch in the lab of Dr. John O'Shea.
Dr. Yao's research focuses on understanding the mechanisms by which T cells, an important arm of adaptive immunity, eradicate tumor and infected cells. She will be investigating molecular and cellular mechanisms underlying the antitumor activity of stem-like CD8 T cells in clear cell renal cell carcinoma. Her goal is to uncover ways of harnessing stem-like CD8 T cells to improve immunotherapies for kidney cancer.
UTSW investigator identifies signaling pathway responsible for driving sarcomatoid differentiation
Molecular biologist Thomas Carroll, Ph.D., reports in the Journal of Clinical Investigation that activation of the Hippo/Warts pathway, one of the major signaling pathways regulating organ size and tissue growth, is sufficient to drive sarcomatoid renal cancer. In studies in mice, Carroll and colleagues show that constitutive activation of Hippo/Warts through deletion of Lats1/2 drives sarcomatoid tumors and metastases.
DoD awards more than $2.7 million to six UTSW investigators for kidney cancer research
The Department of Defense Congressionally Directed Kidney Cancer Research Program awards more than $2.7 million in  research funding to six UTSW Kidney Cancer Program investigators.
Drs. Payal Kapur and Satwick Rajaram received an Idea Development Award ($980,839) to evaluate digital pathology and deep learning to predict treatment response. Dr. Srinivas Malladi received an Early Career Idea Development Award ($983,478) to delineate latency and relapse determinants in metastatic clear cell renal cell carcinoma (ccRCC). Dr. Qing Zhang received a Concept Award ($163,670) to identify functionally important enhancers in kidney cancer. Jong-Sun Lee, Ph.D., with the Mendell Lab received a Postdoctoral Award ($319,800) to understand the role of nonlongcoding RNAs in kidney cancer. Faeze Saatchi, Ph.D., with the Brugarolas Lab also received a Postdoctoral Award ($319,307) to identify molecular mechanisms underlying HIF2-independent tumorigenesis.
* The views expressed in this press release/article are those of the author's and may not reflect the official policy or position of the Department of the Army, Department of Defense, or the U.S. Government.
2019 Nobel Prize winner Dr. William Kaelin speaks at University Lecture Series
2019 Nobel Prize winner and Harvard Medical School Professor William Kaelin, M.D., is the guest speaker for UT Southwestern's University Lecture Series. Kidney Cancer Program Director James Brugarolas, M.D., Ph.D., and Associate Professor of Pathology Qing Zhang, Ph.D., served as hosts. Dr. Kaelin is recognized for his landmark work involving the VHL tumor suppressor gene.
KCP hosts seventh annual Advisory Board meeting
New immunotherapy drug boosts innate immune system to fight cancer
A newly released study by Jinming Gao, Professor of Oncology, Pharmacology, and Otolarynology, shows how a novel, nanoparticle-based drug may be more effective at engaging the body's innate immune system to fight cancer. The drug's unique and prolonged binding to the STING protein was associated with longer innate immune activation, demonstrating a more effective T cell response against solid tumors.
Collaborative study highlights importance of complement system in renal cancer
A collaborative study with Texas Tech University Health Sciences Center that builds upon a prior KCP discovery of an inflammed subtype of renal cancer 
(Wang et al., Cancer Discov 2018)
 shows increased deposition of complement proteins in inflamed renal tumors. The data suggest that complement proteins, which are associated with poor prognosis, may suppress an adaptive immune response and could be targeted in combination with immune checkpoint inhibitors.
A collaborative study with Texas Tech University Health Sciences Center that builds upon a prior KCP discovery of an inflammed subtype of renal cancer shows increased deposition of complement proteins in inflamed renal tumors. The data suggest that complement proteins, which are associated with poor prognosis, may suppress an adaptive immune response and could be targeted in combination with immune checkpoint inhibitors.